Options & Upgrades
We offer an extensive list of Options and Upgrades for
Open
and
Enclosed
trailers. Aluminum Wheels, Removable Fenders, or maybe even Oak Decking, the list goes on and on. Visit our location or call us at 920-886-9288 for a comprehensive list of all the available options. We would be happy to order the trailer exactly the way you want it.
Open Trailer Options
Standard Sure-Trac Color Options (Custom Colors Available)
Decking
Aluminum Wheels
HD Reinforced Landscape Gate
Set Back Jack
Side Ramp
A-Frame Tongue Tool Box
Spring-Assisted Ramps
Removable Fenders
I-Beam Gooseneck Hitch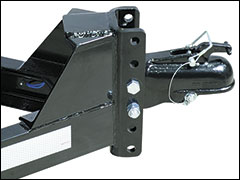 Adjustable Cast Iron 2 5/16 Coupler
Spare Tire Mount
A-Frame Tool Box w Solar Charge Panel
Available options also include:
Axles: Straight, Drop, Torsion, Heavy Duty Slipper Spring, Oil Bath, Upgrade Weight Rating on most Standard Sized Trailers
Wheels: Aluminum Rims in all sizes, Radial Tires, Load Range D, E, F, G & H
Decking: Heavy Rough-Sawn Oak, Pressure Treated Plywood, Steel Tread Plate
Lighting: LED, Strobe Lighting Package
Gates/Ramps: Landscape Side Gate, HD Reinforced Landscape Gate (Ladder Style), Spring-Assisted, Split Ramp
Coupler: Gooseneck, Fifth Wheel, Adjustable Cast Iron 2 5/16?
Enclosed Trailer Options
Aluminum or steel frame, ramp or bar doors, solid or two-tone color , round or flat top? Enclosed trailers come in many different configurations. Below are a few of the additional options available for enclosed trailers. We would be happy to order the trailer exactly the way you want it. Contact us for a comprehensive list of options.
Interior Options
Custom Aluminum Cabinets
High-Output Dome Light
Customized Coin Flooring
12V Recessed LED Lighting
Wheel Chock
110v Florescent Light
White Interior with Checkered Flooring
5,000 lb. D-Rings
E-Track Tie-Downs and ATP Kickplate
Bi-Directional Vents
Roof Vent
Aluminum Interior
Additional Interior Options include Recessed Spare Tire, Electrical/Power Packages, Interior Wall Coverings, Cabinet Packages.
Exterior Options
Aluminum Door Holdback
ATP Exterior Package
Wedge Ramp Door
Bright Vertical Nose
Two-Tone Color
No-Cable Torsion Spring Ramp
Wedge Storage/Cargo Area
Aluminum Wheels with Radial Tires
Aluminum Transition Plate
Exterior Lighting
Commercial Grade Color Options
Concession Windows
Additional Exterior Options include Vents, Windows, Locks, V-Nose Boxes, Special Ramps, Ladders and Rails.